Regular price
$10.99 USD
Sale price
$12.99 USD
Unit price
per
Sale
Sold out
Universal 1080°Rotation Faucet Aerator Splash Filter kitchen tap Extend Adapter Aerator Faucet adaptor Faucets Bubbler aireador
Please note: The link Material : stainless steel 
Say goodbye to the unsanitary mouthwash cup! With this new version faucet, the bathroom sink improves to be all-in-one combined with a mouth wash cup, bathroom sink, and faucet.
Bring fresh new experience.


This faucet can be rotated 1080 degrees and can be easily bent or folded at will so that the water flow can reach every corner of the sink. Dual function 2 water flow design, simple rotation can convert soft bubble stream to strong spray. Soft bubble stream and strong rain sprayer. Meeting all your needs in the kitchen room.robinet rotatif 1080°
MAIN FEATURES:
►1080° Rotatable
Humanized design, 1080° arbitrary rotation, more convenient to wash,bid farewell to the embarrassment of inconvenient use of traditional basin faucets, Bring you a full range of washing experiences.
 
►2 Water Outlet Modes
Water column mode: The water in this mode is rich in oxygen, and the water is soft and does not splash.Suitable for handwashing, face cleansing, etc.robinet à rallonge rotatif multifonctionnel
Shower mode: This mode has fine water output,is soft and comfortable, suitable for cleaning toothbrushes, water cups, etc.filtros grifos agua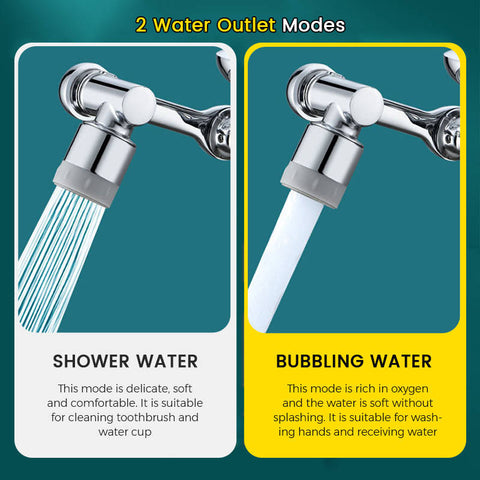 ►Durable in use
Made of selected thickened copper material+Stainless steel, anti-corrosion, anti-rust, and

long service life.
►Easy To Install
Just two simple steps to complete the installation, simple and fast.
 
►Thoughtful Design
International common interface, suitable for 99% of faucets. Four-layer filter element filters remove impurities in the water. Double gasket anti-drip.
 
►Use in multiple scenarios
It can be used in the kitchen to rinse vegetables and fruits, dishes, sinks, etc. It can also be used for daily washing in the bathroom, shampooing, washing towels, etc.
Specifications:
Material: Copper+Stainless steel
Weight: 256g
Size:
Color: Silver
Package Contains: 1 x Rotatable Multifunctional Extension Faucet
Warm Tip: Dear buyer, due to the lighting effect, monitor's brightness, manual measurement, etc., there could be some slight differences in the color and size between the photo and the actual item. Sincerely hope that you can understand! Thank you!
Warranty

Bliote Warranty

Section-1 - Warranty Terms

Faucets - for Kitchen, Bathroom, Shower System, Tub

Non-electronic Faucets:

- Three-year Limited (residential and commercial) on the structure, finish and cartridge.

- Three-year Limited (residential and commercial) on the mechanical components such as but not limited to sprayhead.

-assembly (includes engine, aerators, structure, restrictors, back flow preventers, sprayer hoses, braided supply line hoses which encompasses nylon, silicon and stainless steel, etc), LED function.

 

Electronic Faucets:

- Three-year Limited (residential and commercial) on the structure, finish, electronic parts and cartridge.

- Three-year Limited (residential and commercial) on the mechanical components such

as but not limited to braided supply line hoses, LED function.

 

Faucet Accessories:

- Three-year Limited (residential and commercial) for drains, sink strainers, soap dispensers,

escutcheon plates.

 

Bathroom & Kitchen Accessories – Sprayer Faucets, Glass Rinsers, Towel Bars/Rings, Holders,Bathroom Shelves, Hooks or the like

- Three-year Limited (residential and commercial) on the structure, finish and hardware.

 

- Three-year Limited (residential and commercial) on the sink bowl.

- Three-year Limited (residential and commercial) on hardware and drain assembly.

 

- Three-year Limited (residential and commercial) on the vanity top, vanity cabinet and sink bowl. Faucet warranty is applicable when faucet and drain assembly included.

 

Section-2 - Warranty Agreement and Restrictions

Bliote.com warrants the products sold by Bliote.com shall be free from defects in material, workmanship and function under Normal Use on the warranty period outlined in Warranty Terms from the original date of purchase. "NormalUse" means in strict accordance with the installation, operation and maintenance manual.

 

If any of the warranted Products are found by Bliote.com to be defective in normal residential use, such Products will, at Bliote.com's option, be replaced, repaired or made appropriate adjustment at Bliote.com's cost. The parties here to expressly agree that Original Purchaser's sole and exclusive remedy against Bliote.com shall be on the repair, replacement or refund of defective products as provided herein. This warranty does not cover labor or other costs or expenses to remove or install any defective, repaired or replaced product. In no event shall the liability of Bliote.com exceed the purchase price of the product.

 

This limited warranty DOES NOT cover any loss and/or damage due to:

⚫ Misuse or unusual use

⚫ Mishandling

⚫ Accident

⚫ Neglect

⚫ Acts of god. Relate to events outside human control, like flash floods, earthquakes, or other natural disasters.

⚫ Improper installation

⚫ Improper maintenance and care. Using abrasive cleaners such as powders, bleach, ammonia, alcohol, or chlorine, or steel wool, or wire brushes, as these will damage and wear down the finish. Significant product exposure to chemicals, harsh cleaners and harsh outdoor environment will void any and all warranties on finishes and material.

⚫ Modification (including but not limited to use of unauthorized parts or attachments), or adjustment or repair. This warranty only applies when all components have been provided by Bliote.com. Substituting another manufacturer's product and/or components will render the warranty completely void.

⚫ Normal wear and tear from daily use. For example, gloss reduction, scratching, staining and alkaline etching of finishes over time, due to use, cleaning practices or water or atmospheric conditions, are not manufacturing defects but are indicative of normal wear and tear.

This warranty extends to the original purchaser, and is not transferable whether to heirs, subsequent owners, or otherwise. No affirmation of Bliote.com, by words or action, other than as set forth herein shall constitute a warranty.

 

If you believe that you have a warranty claim, contact Bliote.com by sending an email to service@Bliote.com. Please be sure to provide all pertinent information regarding your claim, including a copy of your original order confirmation, confirm the item number & Qty of the defective item(s), a complete description of the problem, provide pictures or video evidence clearly showing the problem.

 

THE FOREGOING WARRANTY IS IN LIEU OF ALL OTHER WARRANTIES, EXPRESS OR IMPLIED INCLUDING THOSE OF MERCHANTABILITY, FITNESS on ANY PARTICULAR PURPOSE OR INFRINGEMENT. BUYER SHALL IN NO EVENT BE ENTITLED TO, AND Bliote.COM SHALL NOT BE LIABLE on, INDIRECT, SPECIAL, INCIDENTAL OR CONSEQUENTIAL DAMAGES OF ANY NATURE,INCLUDING, BUT NOT LIMITED TO,TO LOSS OF PROFIT, PROMOTIONAL AND/OR MANUFACTURING EXPENSES,OVERHEAD, INJURY TO REPUTATION AND/OR LOSS OF CUSTOMERS.
Share
View full details